Development of high-quality products for specific use and purposes
Our various types of polishing materials such as Kokonoe Cerium pad and kokonoe pitch, which were developed as a result of our painstaking research are used mainly for cleaning lenses of cameras, spectacles, cathode-ray tube monitor displays, various types of OA equipments. and LCD displays.
Furthermore, our polishing materials have also been used to polish special sheet glass. Our various waxes including Kokonoe Wax has been developed as a bonding agent for metals, ceramics, glass and crystals which need masking and precision process in the manufacturing of semiconductors.
Although Japanese companies usually purchased similar bonding agents from foreign countries in the past, our Kokonoe Wax has been gaining popularity with our customers as a reliable and high-quality wax made in Japan.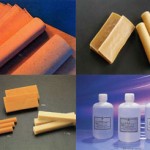 Product line 
Various polishing process for WAX · adhesives, abrasives, protective agent