Pursuit of Safety, Reliance, and High Performance through our original
developed technologies.
At our Kawasaki Branch office, we started producing and selling electrical fuses from 1966. We recently started producing electrical fuses for forklifts and are the company which specializes is producing and selling low voltage electrical fuses in both alternating current and direct current.
Due to the rapid progress in FA ( Factory Automation) and OA ( Office Automation) in recent years, our customers have been expecting our products to always be consistent and reliable. As a result of improving our products, one of our main products called kokonoe Fuse has been gaining great popularity with our customers as a protecting
type fuse used for electric power supply boards in communication equipment, control boards related to electric power, and in the controllers of electric work vehicles.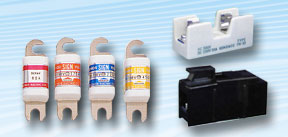 Product line 
Various AC, DC low voltage fuse